FESTIVAL DAY AGENDA
10:15 – 10:30
Opening: Jovan Stojanović, COO/Managing Director, Direct Media United Solutions
10:30 – 11:30
Keynote: Ravid Kuperberg, partner, Mindscapes: The Story of StoryTeching
11:30 – 11:45
Coffee break and networking
11:45 – 12:15
Srđan Đurđević, R&D Director, United Group: Innovation and TV
12:45 – 13:45
Snack break
13:45 – 14:15
Vladimir Vulić, management consultant, Digitalizuj.Me Co-Founder, and Spark.me Program Director: New Model of Digitally Transformed Organization
14:15 – 14:45
Dragan Bjelogrlić, actor, director, and producer: Is Serbia ready for online platforms?
15:00
Graduation ceremony for the Media and Branding module participants
Download the detailed agenda
with talk descriptions
Ravid Kuperberg
Dragan Bjelogrlić
Vladimir Vulić
Srđan Đurđević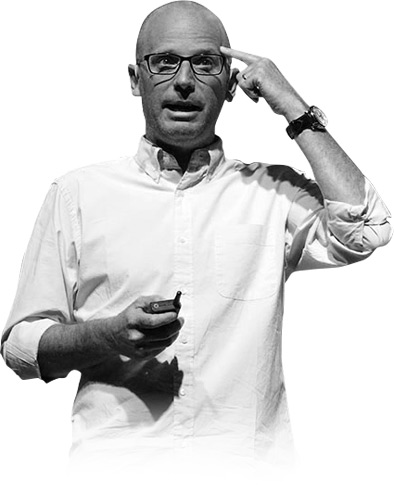 Ravid Kuperberg
Partner and trainer
Mindscapes
The Story of StoryTeching: How is innovative technology translated into effective storytelling
To start: What is StoryTeching anyway? This is the talk where you'll learn the answer to the question of how technology, data, and brand narratives merged into one in incredibly different and compelling ways. Our guest Ravid Kuperberg of Mindscapes, Israel, one of the Cannes Festival's recurring speakers, reveals everything about how technology became an integral part of the modern brand storytelling in no time at all. The interactive talk will look at key innovative and award-winning campaigns that use effective creative StoryTeching. We'll come up with practical thinking tools geared to direct the mind and lead it to unique application of innovative technology. Ravid told us to expect compelling and entertaining content that crosses the boundary between the digital and the physical, between the online and the offline.
Ravid Kuperberg is an experienced speaker, always tackling colorful and extremely complex topics — structured creative thinking in brand communications. For a while now, the imaginative and always curious creator's expertise has been widely used by the world's biggest agencies and brands. And it won't hurt to mention the thirty Cannes Lions (as well as three Grand Prix Lion awards) that are comfortably sitting on the display cabinets of Mindscapes workshop participants. The name of Mindscapes denotes an elaborate training system for perfecting innovative and creative thinking and action. The training methodology is specially tailored for each industry branch (advertising, media, digital, TTL, and PR). Ravid is a former marketing expert with a background in strategic and creative roles. He kicked off his career as a strategic planner, after which came a stint in copywriting, and then he focused his creative potential on the role of creative director. He is a frequent keynote speaker and trainer at the biggest international marketing conferences and advertising festivals. This means that he is a mandatory guest at the prestigious Cannes Lions International Festival of Creativity, as well as at the 2019 Direct Media Academy!